Shopping Cart
Your Cart is Empty
There was an error with PayPal
Click here to try again
Thank you for your business!
You should be receiving an order confirmation from Paypal shortly.
Exit Shopping Cart
Mercy Christian Counseling
NCCA Licensed Clinical Pastoral Counseling with Temperament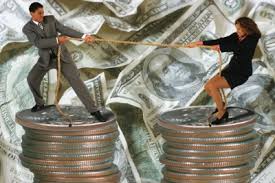 A husband sits across from me as we discuss the stressors in his life that have contributed to his need for counseling. He tells me that he worries about money a lot, even though he has a significant salary. It seems his wife refuses to contribute any of her salary toward their mutual expenses. She believes it is biblically mandated that the husband provide for the family, leaving her free to spend "her" money on whatever she wishes. I ask if they have ever discussed a budget, and he tells me he can't bring it up because she gets mad.
A husband refuses to add his wife to his bank account. She is a homemaker and feels humiliated that she is not given the dignity of making even the simplest financial decisions so that she can manage the household. 
A wife looks at me aghast when I suggest that she and her husband can overcome their financial difficulties by combining their resources and formulating a budget, which would include an allowance for each of them to spend as they choose. She doesn't want him to have access to "her" money, because her former husband left her in a financial crisis.
They both hide their spending from one another, because they don't want to be told what to do.
These are just examples of what I'm seeing as a burgeoning development in marital discord. More and more couples are avoiding discussing financial matters or, if they do, they take up defensive postures that lead to more and more discord and resentment. To them, it's easier just to not talk about it.
"We know marriages that have survived infidelity, several times over. But money is a HUGE issue," say Jenny and Rufus Triplett, relationship experts and authors of Surviving Marriage Tips. "We have a chapter that states 'Discuss Money or it Will Disgust You.' This is true. When spending habits are not the same nor are saving and the way bills get paid, it causes disagreements that can turn into loud arguments that can turn into fights and deep resentment. Money is a big marriage dissolver."
Marriage is supposed to be a partnership where "Therefore a man shall leave his father and mother and be joined to his wife, and they shall become one flesh." (Genesis 2:24) This becoming one flesh goes way beyond the sexual union! Both the husband and wife are to submit to one another out of reverence for God (Ephesians 5:20-21). There is a complementary equality that is to take place within the marriage bond. Husband and wife cannot become one flesh if they are at odds over money issues or have any other unresolved issues. Biblical proof of this comes from this simple question found in Amos 3:3, "Can two walk together, unless they are agreed?" The logical conclusion is that if a couple is not in agreement, then they cannot walk together; hence, they cannot be one flesh, and the marriage is ruptured.
One obvious solution is for a husband and wife to have an open and honest discussion about their financial resources and responsibilities and to come to agreement on how, when, why, and how much money will be spent. For this to be successful, however, there must be total financial transparency, whether resources are combined or not. In addition, I believe it is critical for both partners to have the dignity of a personal allowance so that they can make small purchases without the consent of their spouse. How much this allowance should be must be subject to mutual agreement of what is realistic, given the overall budget picture. As part of this procedure, it should be agreed that neither husband nor wife will spend above a certain dollar figure over their allowance without first discussing with each other. The outworking of this arrangement will be to enhance feelings of trust and mutual respect.
Proverbs 31 gives a stellar example of what being one flesh really means in financial matters. The chapter is best known for the passage on "the virtuous wife," which has much to say about the mutual trust and respect between a husband and wife, including the handling of finances, if you carefully read between the lines. It tells us that her husband safely trusts in her, and he will not suffer loss, because she does him good and not evil all the days of her life (vv. 11-12). He, in turn, honors his wife with the freedom to make financial decisions and implement plans for the benefit of their family. She does some of this from the proceeds of her own work (vv. 16-18, 24). There is harmony in their household. The husband has a good reputation and is able to go about his business without worry (v.23); and the wife does the same, receiving praise for her steadfastness, skill, and character (vv. 23, 28-29, 31). Such harmony, trust, and mutual respect can only come from open communication, mutual consideration and submission, and absolute transparency.
If your marriage is suffering because you and your spouse do not meet regularly to discuss financial matters, hide spending from each other, or manipulate one another with threats or actual withdrawing or withholding financial support, you need to decide if your marriage is important to you at all. Financial discord is a leading cause of divorce, but you can save your marriage through honest and open communication that leads to full agreement and financial transparency.
For help with this and other sources of marital discord, please contact Dr. Haberkorn at (240) 520-2713. In-person and online counseling sessions are available.
Categories: None
/