Shopping Cart
Your Cart is Empty
There was an error with PayPal
Click here to try again
Thank you for your business!
You should be receiving an order confirmation from Paypal shortly.
Exit Shopping Cart
Mercy Christian Counseling
NCCA Licensed Clinical Pastoral Counseling with Temperament
In the quest to improve your health, diet is your first line of defense. According to Dicken Weatherby, N.D., the thirteen foundations of health, in priority order, are:
1. Proper diet
2. Adequate sleep
3. Proper stress management
4. Optimal digestion, absorption, and utilization of nutrients
5. Adequate elimination
6. Optimal tissue minerals
7. Balanced essential fatty acids
8. Proper blood sugar regulation
9. Optimal hydration
10. Adequate vitamin levels
11. Balanced adrenals, thyroid and sex hormones
12. Good cardiovascular health
13. Balanced kidney, bladder, and immune systems
(Source: Dicken Weatherby, N.D., Signs and Symptoms Analysis from a Functional Perspective, p. 6. Bear Mountain Publishing, Jacksonville, OR, 2004.)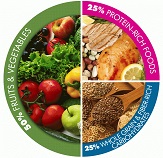 Your diet is everything you eat and drink every day. Unfortunately, the word "diet" has come to be associated with weight loss efforts; and for many people this is a very negative association. Proper diet, however, is the foundation to all good health—it is a point of beginning. It is preventative and restorative.
Every one of the thirteen foundations listed above is important to optimal health. However, in following Dr. Weatherby's hierarchy of foundations, it does little good to try to relieve dysfunctions of any of the following twelve foundations unless you also attend to establishing a proper diet. This is because the body heals in very clear patterns. The nutrients you provide through your diet determine just how well or sick your body will be. Nutritional imbalances are the most frequent culprits in our struggle to achieve good health, and they are the underlying cause of the most common degenerative diseases: diabetes, cardiovascular disease, and obesity. That is why diet is of first importance on the hierarchy of foundations.
 possible to improve or even clear dysfunctions in other body systems by correcting the diet first. When that has been accomplished, then you will be ready to move to the next phase in your wellness journey.
For a natural health assessment of your foundations of health, contact Dr. Susan Haberkorn at (240) 520-2713.
Categories: None
/